Revolutionizing Sustainability, Climate and Equity Planning:
Enabling Municipalities to Respond to Complexity by Transforming Strategic Management Practices
Date: Thursday, June 23, 2022 | 12:00 p.m.–1:00 p.m. ET
Speaker: Randy Sa'd, REFOCUS
Municipalities face diminishing public trust, growing demands for social justice, and a steady stream of global shocks that have stretched government's ability to respond to the needs of our communities. With ICLEI Canada & World Secretariat, Clean Air Partnership and dozens of other partners, REFOCUS has co-developed a global partnership focused on enabling municipal leaders to respond to accelerating change and increasingly complex challenges.
Enterprise Evolution is an applied learning program at the centre of this partnership that enables municipalities to adapt strategic management practices by adopting a tailored combination of systemic management innovations; a new generation of knowledge, methods and tools that combine leading management expertise with systems theory, as well as the natural and social sciences.
During this session you will learn about the City of Kitchener's experience adopting the Enterprise Evolution program and the opportunity to participate in an action research program being launched to study the application of Enterprise Evolution with five additional municipalities.
Speaker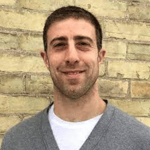 Randy Sa'd, Executive Director, REFOCUS
Randy Sa'd is the Executive Director of REFOCUS, a not-for-profit co-operative and co-developer of the Enterprise Evolution Program. REFOCUS delivers a unique combination of professional education and advisory services designed to support leaders adopting innovative new tools and methods, while building the capabilities needed to apply them effectively.
Randy also serves as the Executive Director of the Flourishing Enterprise Institute (FEI) at Wilfrid Laurier University. The FEI is an applied research institute dedicated to accelerating the development and mobilization of systemic management knowledge and innovations. For the past ten years, Randy has lived with his loving partner, two little girls and canine companion in beautiful Cambridge, Ontario.