Youth Leading on Issues that Matter to Them:
Climate, Poverty and Affordability
Date: Wednesday, July 20, 2022 | 12:00‒1:00 p.m. ET
Speakers: Haleema Ahmed, Manvir Bhangu, Sydney Campbell and Fadumo Diriye
Description
Today's youth may be less likely to vote but are civically engaged and more informed about issues than previous generations of youth. Young people have higher rates of belonging to a group, organization or association than the rest of Canadians, and nearly half of all youth volunteer.
So, how do young people want to engage as leaders on important issues?
This webinar panel of young national researchers and advocates will discuss what they hear, see and think about with their peers. They will explore how youth want to be involved in matters that affect them and the solutions. They will focus on climate, poverty and affordability issues and how we can and should address these challenges simultaneously.
Speakers
Haleema Ahmed, Student, Biomedical Sciences and Research, York University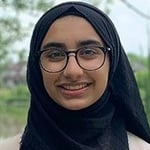 Raised in Markham, Ontario, Haleema is a Muslim-Canadian and Biomedical Sciences and Research student at York University. She serves as a Prime Minister's Youth Council member advising government officials and agencies on health, civic engagement, Islamophobia and other topics through consulting local and national organizations.
As a freelance writer, she has published her thoughts on high school education, Islamophobia and social justice for the Toronto Star, Markham Economist & Sun and MYVoice Canada.
Haleema's volunteer work with the local hospitals, non-profits and masjids shapes her values and is where she feels most at home.
Manvir Bhangu, BA in Human Rights & Human Diversity and Criminology from Wilfrid Laurier University and a Masters from McMaster University in Globalization and the Human Condition

Manvir is the Founder and Executive Director of Laadliyan (laad-lee-ah), Celebrating & Empowering Daughters. This nonprofit organization inspires South Asian daughters of all ages to become empowered. She also works as Supervisor of Direct Services at Yellow Brick House, a women's shelter where she oversees all community programs.
In 2018, Manvir was honoured with Brampton's Top 40 Under 40 award by the Brampton Board of Trade. In 2022, Manvir was awarded the Women Working in Social Activism on Behalf of Women and Children Award by the Elementary Teachers' Federation of Ontario (ETFO). In 2021, Manvir had the opportunity to co-author Canada's first-ever State of the Youth Report, which highlighted the issues youth across Canada continue to face.

Sydney Campbell, Ph.D. candidate, Institute of Health Policy, Management & Evaluation, University of Toronto
Sydney Campbell, MA (Phil), is a Ph.D. candidate in the Institute of Health Policy, Management & Evaluation at the University of Toronto and is simultaneously completing a Collaborative Specialization in Bioethics through the Joint Centre for Bioethics at the University of Toronto.
Her work aims to advance perspectives on childhood well-being, children's rights and policymaking related to children's health care. Last year, Sydney worked with Children First Canada as the Research Lead on the Raising Canada 2021 report, and she is also continuing on the research team for the Raising Canada 2022 report.
Fadumo Diriye, Senior Data Analyst, Youthful Cities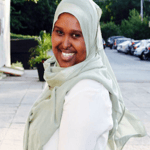 As the Senior Data Analyst for Youthful Cities, Fadumo Diriye is responsible for ensuring data quality, collection, and analysis of youth data. Her experience, education and work help empower young people by utilizing data.
Fadumo guides Youthful Cities in decision-making and programming, including the healthy breakfast club at Fleming's Breakfast for Learning and co-founding Renaissance Youth Group.
Fadumo has an undergrad degree in Health Studies from York University and recently completed a Post-Graduate Certificate, specializing in Operation Management.