The Courage to Lead
Date: Tuesday, February 18 2020 | 1:00 p.m. - 2:00 p.m. ET
Speakers: Lucie Honey-Ray and Liz Weaver
A personal leadership journey often takes several expected and unexpected twists and turns. It calls for the leader to be engaged in reflective thinking and practice.
When we work collaboratively with others, our personal leadership values and approaches, may be challenged. Join Lucie Honey-Ray and Liz Weaver in conversation about the courage that it takes to step into leadership, particularly when faced with difficult life circumstances. Lucie shared her personal leadership journey in the best-selling publication A Woman of Worth, Women in Business. In this publication, Lucie did not let her personal losses define her, but rather used these as a springboard to championing community change efforts in British Columbia.
Liz and Lucie will talk about courage, connection, and collaborative leadership. These important ingredients are key to be a successful community changemaker.
Read and Watch:
Speakers
Lucie Honey-Ray
Lucie Honey-Ray experienced several losses in her life before she became conscious that these losses defined who she was. Her journey to learn more about herself led her to discover a deep passion to help others and build community. She has led a variety of initiatives in the non-profit sector for three decades. She has an MA in Community Development, a BA in Adult Education and a Business Administration Diploma. Lucie attended the first Tamarack community change institute in 2005 and has since been an avid follower!
Passionate about helping vulnerable populations, Lucie strongly believes in meaningful engagement of individuals with lived experience and finds creative ways to support them to lead and guide her work. She managed TRRUST Collective Impact in Vancouver working with youth transitioning out of care for 4 years (2015 – 2019). Lucie currently manages AgedOut.com, a one stop information website with life skills for youth aging into community throughout BC.
Lucie's eclectic and diverse life experiences make her a dynamic and inspiring facilitator and speaker. An advocate of lifelong learning, she continues to explore and incorporate new tools and innovative approaches to her practice.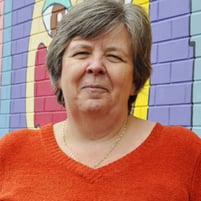 Liz Weaver
President & Co-CEO, Tamarack Institute and Strategic Lead, Tamarack Learning Centre
Liz is the Co-CEO of Tamarack Institute where she is leading the Tamarack Learning Centre. The Tamarack Learning Centre has a focus on advancing community change efforts and does this by focusing on five strategic areas including collective impact, collaborative leadership, community engagement, community innovation and evaluating community impact. Liz is well-known for her thought leadership on collective impact and is the author of several popular and academic papers on the topic. She is a co-catalyst partner with the Collective Impact Forum and leads a collective impact capacity building strategy with the Ontario Trillium Foundation.

Liz is passionate about the power and potential of communities getting to impact on complex issues. Prior to her current role at Tamarack, Liz led the Vibrant Communities Canada team and assisted place-based collaborative tables develop their frameworks of change and supported and guided their projects from idea to impact.