Place
-B
ased Participatory Evaluation for Strategic Learning
Date: October 13, 2021 | 1:00 pm - 2:00 pm ET / 11:00 - 12 pm MT
Speakers: Diana Hor, Mijail Raigorodsky, Jean-Marie Chapeau, Myriam Bérubé


Shifting away from mechanical accountability to community learning, Québec's community sector has been reframing evaluation for many years. The intention is to be more participatory and collaborative, leading to higher levels of learning, strengthened community relations and greater transparency.
Indeed, who said Festival and Evaluation do not go together? Join us to learn more about how the Centre-South neighbourhood in Montréal has experimented with new and exciting data collection methods and creative ways of sharing analysis and narratives like the "Fest' Eval". The community has been successful in engaging participation, diversity and contributions from people coming from all walks of life to take ownership of the evaluation processes and outcomes in their community.
Capacity-building, empowerment and community ownership are instrumental in place-based participatory evaluation. Over the last decade, Dynamo, a Québec-based capacity-building organization, has been pioneering this field of practice, working alongside communities to explore new ways of measuring change that can keep up with the fast-moving pace of community initiatives and focusing on strategic learning to constantly improve the course of action.
Join Myriam Bérubé as she invites Diana Hor (Community leader, Center-South neighbourhood), Mijail Raigorodsky (Strategic advisor- evaluation, Dynamo) and Jean-Marie Chapeau (Evaluating impact Director, Tamarack Institute) to share highlights and lessons learned from Québec in the practice of participatory evaluation and how it can lead to new thinking, better strategies and deeper impact.


Can't make one of the live webinars? Register below to receive a full recording of the discussion for the webinar.
For More Information:
Speakers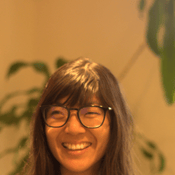 Diana Hor – Community Leader, Center-South Neighbourhood
Diana Hor has a marketing and communications background and 7 years of experience in the business sector in brand development. A few years ago she wished to find more meaning in her life and professional career and started a professional reorientation.
At the heart of her desires: to put the human relationships at the center of her intentions and to become a catalyst for positive societal change, citizen participation and social inclusion. This is why she joined the CDC Rosemont - a Montreal neighbourhood roundtable- as a Collective Impact Project communications officer.
Driven by the desire to continue learning about social development issues, but above all to participate in supporting organizations to work together, Diana then joined the CDC Centre-Sud as a coordination manager where she puts her experiences and personal skills to support local collective actions and the evaluation of their collective impacts at the neighbourhood scale.
Mijail Raigorodsky – Strategic advisor- evaluation, Dynamo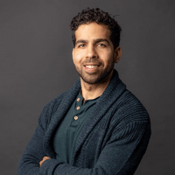 Mijail Raigorodsky holds a master's degree in program evaluation from the École nationaled'administration publique (ENAP) and a bachelor's degree in economics and politics from the Université de Montréal. He works with non-profit organizations in the field of monitoring-evaluation and strategic planning. Within the Dynamo team, Mijail acts as Strategic Advisor, evaluation profile.

He first started as a parliamentary assistant for the Honoré-Mercier boroughs in Montreal, then moved to the One Drop Foundation in Montreal as an evaluation advisor. There, he supported the development of a technical guide for the monitoring and evaluation of projects related to water, hygiene and sanitation management. He then joined the international cooperation community and became an international monitoring, evaluation and strategic planning advisor for SUCO and Oxfam-Québec. He then participated in the design and implementation of participatory evaluation processes for projects focused on food security, citizen participation and gender justice in Colombia and Nicaragua.

Thanks to his years of field experience with a wide variety of social organizations, Mijail has developed an expertise and sensitivity for accompanying participatory evaluation processes, focusing on community mobilization and organizational capacity building.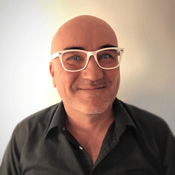 Jean-Marie – Tamarack Institute
Jean-Marie Chapeau is the Consulting Director Evaluating impact at the Tamarack Institute. He is deeply convinced that local and collaborative approaches are an essential lever in solving complex social issues, Jean-Marie has been involved in community development and social change for 25 years.

Jean-Marie mobilizes his experience, passion and curiosity to promote evaluation as a tool for empowerment in communities and to accompany individuals and groups in their learning processes. He is constantly seeking to build bridges between change-makers involved in inventing local solutions to poverty and exclusion. He previously worked at Centraide of Greater Montreal, implementing innovative strategies and projects aimed at collective capacity building (training, coaching), particularly in social impact measurement, strategic learning and organizational development. In this role, Jean-Marie was responsible for the various evaluation and learning components of the Collective Impact Project (CIP), Montréal's neighbourhood-based strategy to reduce poverty, and developed the Evaluation capacity-building approach to support local participatory evaluation.

Jean-Marie is a graduate of urban planning and business management. In the early 2000s, he initiated the very first urban farming initiatives in Montreal. He also worked for several years in the field of strategic consulting and foresight in Paris (France).
Myriam Berube – Tamarack Institute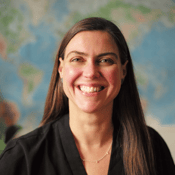 Myriam Bérubé is the Consulting Director for Quebec at the Tamarack Institute. She's passionate about community innovation and development and brings her understanding of the diversity of experiences made in Quebec into Tamarack's five interconnected areas of practices (collective impact, community engagement, collaborative leadership, community innovation and evaluating impact) leading to community change. She believes that we can accelerate our effectiveness by learning from one another, thus increasing our social impact and even inspiring others beyond our borders. Before joining Tamarack, she was the lead on the Collective Impact Project (CIP), Montréal's neighbourhood-based strategy to reduce poverty, an initiative operated by Centraide of Greater Montreal and supported by a major philanthropic, public and community collaboration.