Navigating Community Change Trends with Future of Good
Date: Thursday July 11, 2019 | 1:00 - 2:00 p.m. EST
Guest: Vinod Rajasekaran
Host: Liz Weaver
Artificial intelligence, blockchain, the ownership of data, and agile leadership are just four of the many trends impacting society. But what do these trends mean for the world of doing good, and why do they matter for those of us leading community change efforts? Join Vinod, CEO and Publisher of Future of Good, and Liz in a lively discussion about how changemakers need to be aware of and prepared for how these trends will impact how we work and connect.
Guest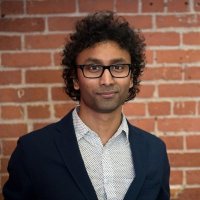 Vinod Rajasekaran

Vinod is CEO & Publisher of Future of Good, a new digital content platform dedicated to illuminating stories, innovations, and trends shaping social impact in Canada. Future of Good also produces the Future of Good Summit, the premier gathering of impact-focused leaders exploring trends and tensions to doing good well in the 21st century.

Vinod was Co-founder and Executive Director of Impact Hub Ottawa, the largest multi-sector social innovation environment in Canada's capital. He recently oversaw strategy and business model development as the founding Managing Director of Rideau Hall Foundation, chaired by former Governor General David Johnston. Vinod also launched Canada's social R&D network as a Fellow with SiG working to seed ecosystem conditions to strengthen embedded R&D capacity in Canada's non-profits. His ground-breaking work in social R&D is referenced around the world.

Vinod is on the Advisory Board to The MATCH International Women's Fund. He was designated as a Global Shaper by the World Economic Forum, is a member of the Banff Forum community, and is a recipient of The Queen Elizabeth II Diamond Jubilee Medal for his contribution to advancing social innovation.
Host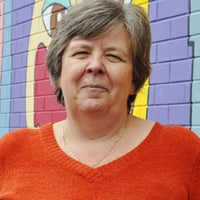 Liz Weaver
Liz Weaver is the Co-CEO of Tamarack Institute where she is leading the Tamarack Learning Centre. The Tamarack Learning Centre has a focus on advancing community change efforts and does this by focusing on five strategic areas including collective impact, collaborative leadership, community engagement, community innovation and evaluating community impact. Liz is well-known for her thought leadership on collective impact and is the author of several popular and academic papers on the topic. She is a co-catalyst partner with the Collective Impact Forum and leads a collective impact capacity building strategy with the Ontario Trillium Foundation.

Liz is passionate about the power and potential of communities getting to impact on complex issues. Prior to her current role at Tamarack, Liz led the Vibrant Communities Canada team and assisted place-based collaborative tables develop their frameworks of change, and supported and guided their projects from idea to impact.