Keys to Success in Resident-Led Community Change Approaches
Date: December 4, 2018 | 1:00 - 2:00pm EDT
Speaker: Jessie Sutherland
Research has shown that the strengthening of social ties can creates a necessary foundation for positive community change; contributes to community resilience; and positively impacts individual health and well-being.
In this webinar, Jessie Sutherland will share insights from over 20 years of designing, facilitating and supporting resident-led community change processes nationally and internationally. Jessie will touch on the key components to success in residents-led community change initiatives, including sustainability strategies. Join us as Jessie offers insights on how a belonging lens can transform our strategies, our relationships and our impact.
Speaker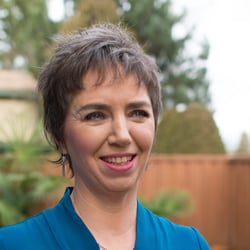 Jessie Sutherland, M.A in Dispute Resolution, International Speaker and Trainer, Director of Intercultural Strategies and founder and innovator of the award winning Finding Home™ neighbourhood dialogue and capacity building program.
Jessie is also the author of the best selling book Worldview Skills: Transforming Conflict from the Inside Out. Intercultural Strategies offers speaking, training and strategic consulting packages for organizations working with diverse communities on engaging diversity, intercultural collaboration and residents-led community change approaches.
Jessie is currently working as the consultant on a number of projects, including UNESCO's Mohatma Gandhi Institute of Education for Peace and Sustainable Development on an intercultural education project to foster global citizenship and meaningful action to address our most pressing social problems. To learn more about how to use a belonging lens to address our most pressing social and environmental challenges, watch Jessie's TEDx Talk, How To Belong In A Rapidly Changing.