Virtual Work is Here: A Guide for Youth in the Virtual Workforce
Date: July 22, 2020 | 12:00-1:00 pm E.T.

Speakers: Lina Pulido, Miranda Newman and Chelsea Ward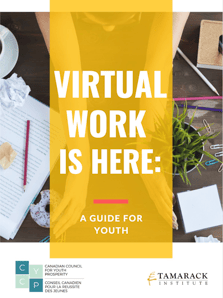 Are you between the ages of 15 and 29, new to virtual work - either looking for your job or just got hired? We've got some ideas for you.

Given that in March 2020, the youth unemployment rate in Canada increased to 16.8%, the highest it has ever been. With fewer physical job opportunities for youth, there is an opportunity for employers to tap into the virtual workforce. As such, the Canadian Council for Youth Prosperity has partnered with Tamarack Institute to produce Virtual Work is Here: A Guide for Youth. This guide was developed to provide resources for youth, aged 15-29, who are interested in exploring virtual work and to provide a different perspective to those who are currently working virtually.

Join us to learn more about why the virtual workforce will be an important space for youth. We will also explore this new guide and how young people are using it.
About Canadian Council for Youth Prosperity (CCYP)
The CCYP is a national, cross-sector collaboration that drives coordination and boosts the infrastructure that supports the youth workforce development ecosystem. The CCYP acknowledges that youth workforce development is a complex, interconnected system of services and supports. It also recognizes the need for coordination and infrastructure in order for workforce development to strengthen and evolve.
Speakers
Lina Pulido, Policy Analyst, Canadian Council of Youth Prosperity
Lina is a policy analyst at the Canadian Council of Youth Prosperity. She is a graduate from the Munk school of Global Affairs and Public Policy. Her work has particularly focused on Canada's employment services structure, and more recently it has centered on determining how employers, and employment service providers can leverage government support to aid youth navigate this difficult time. She is passionate about civic issues and is a member of Civic Tech Toronto. She is currently also learning how to (effectively) work remotely.
Miranda Newman, Writer & Editor
Miranda is a writer and editor based in Toronto. Her work has appeared in The Literary Review of Canada, Broadview Magazine, The Walrus, and more. She's co-editor of AFTERNOON, a yearly arts and letters publication, and publishes a monthly newsletter about mental health. In her spare time, she volunteers for Toronto Cat Rescue and is a member of the Centre for Addiction and Mental Health's National Youth Action Council.
Chelsea Ward, Writer & Editor
Chelsea is a freelance writer and editor from Toronto. She recently launched The Write Mindset, a company which offers content marketing to new and inexperienced small business owners. When she isn't writing, Chelsea participates in youth entrepreneurship training and works on filming her debut documentary about CADASIL.