Upside Down Thinking For Collaboration
November 24, 2017 | Cambridge, ON
In this workshop, Mark Holmgren will explore how Upside Down Thinking helps us think more clearly about the pressures in our organizations that maintain the status quo. He will show how thinking differently can challenge our most basic assumptions about the work we do, and how these assumptions can sometimes reinforce the systems we are trying to change. Participants will spend time in dialogue, connecting and sharing their experiences, and will be challenged to consider how they can foster shared and collaborative visions of the future and how to make them come true.
Are you trying to collaborate with other agencies, businesses, and/or governments around complex issues and challenges but feeling stuck or frustrated by the lack of traction, how long things are taking, or resistance to collaborating to the extent that you know is needed?
We know intuitively that we are better together than working in isolation, and we also know that to effect large scale change in our community requires innovation in service delivery, funding, community engagement and so on. All of us face the challenge of how to break through conventional thinking or habits and how to overcome status quo mindsets that, if we are honest, all of us experience in ourselves as well as others.
Taking new ideas into reality requires not just more thinking, but thinking differently about how to be the disruptive force that can unseat the status quo. These are a few of the questions Mark Holmgren will address in his workshop Upside Down Thinking For Collaboration.

Working with decades of experience putting new programs and systems into reality, Mark Holmgren, one of Alberta's top community change leaders, will work with you to explore drivers of collaboration and different methods to thinking together that can help everyone foster game-changer actions to maximize community impact.
What is Upside Down Thinking?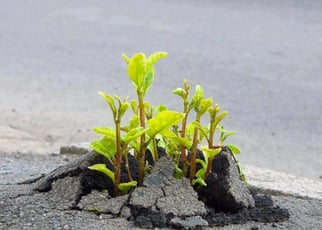 Upside Down Thinking is both a mindset and a tool that we can use to challenge current practices in our community work and within our organizations. This approach to thinking helps us break through the pressures to maintain the status quo – it's a supercharged form of disruptive thinking that can be used when engaged in critical, creative, or lateral thinking.
As a mindset, Upside Down Thinking goes beyond thinking better to address the challenges of a volatile and disruptive environment. It is about being the disruptive force that can unsettle our habits and dogma, leading to major change. It is about more than crafting inquiry; it goes further to pose new realities that run contrary to how we think and how we see our own identities within the context of our work.
What Will I Learn?
In this daylong session, Mark will blend together lecture and presentation with a variety of Upside Down Thinking table exercises, drawing upon his innovations and experiences with Upside Down Thinking. Participants will be presented with some of the most disruptive propositions from various sectors to work through and learn from together. Through interactive exercises, participants will also work on disruptive propositions that resonate directly to their own situations.
Spend the day with Mark to experience and learn:
- Exploring Lateral Thinking, Integrative Thinking, Divergent and Convergent Thinking, Systems Thinking as well as the fundamentals of Upside Down Thinking and how it can add value to other ways of thinking collaboratively.
- Practical tools: learn practical tools for thought from the Upside Down Thinking toolbox, such as asking Wicked Questions, heretical propositions, and turning norms upside down to bring about disruptive innovation.
- The impact of groups and organizations: how organization and group dynamics impact our ability to think and change together
- How to approach problems as solutions in disguise: change your approach to problem solving by challenging our solutions by rephrasing them as problems
- Principles to guide thinking upside down in groups
- Addressing resistance in implementing a new way of thinking
- Applying Upside Down Thinking in a group dynamic: how to practice Upside Down Thinking as both a group participant and facilitator