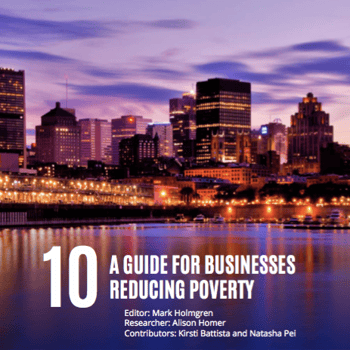 Last year, at Cities Reducing Poverty: When Mayors Lead in Edmonton, business leader Ruth Kelly, CEO of Venture Publishing, challenged everyone in the room to include business leaders in poverty reduction work. Her challenge was taken to heart, and this year's summit in Hamilton, Cities Reducing Poverty: When Business is Engaged, was the outcome of Ruth's inspiration.
10 – A Guide for Businesses Reducing Poverty is about what can happen when businesses large and small are engaged in poverty reduction. It contains inspiring accounts of how business leaders and their colleagues are having success in improving lives and community conditions nationwide.
The book was written to both acknowledge and inspire the thinking and work of businesses across our country, and to remind all of us of how critical business involvement in poverty reduction truly is.
If you are a business leader, a poverty reduction practitioner, a community activist, or a concerned citizen, this guide was written for you.
Purchase Print Copies
To purchase print copies, please fill out the form below and Natasha Pei will get in touch with you to confirm the details of your order.
The price of TEN has been set strictly on a cost recovery basis. Orders will be shipped only after payment has been received in full.

Regular Price: $10.00 per book (includes shipping).

VC Member Price: $7.50 per book (including shipping) and your first 5 copies are complimentary.