Collective Impact Capacity Building Webinar Series
Series Sponsors:

Safeguarding the health and wellbeing of pregnant/postpartum families, ensuring racial and socioeconomic equity, and creating breastfeeding friendly communities are enormous undertakings that require the aligned efforts of multiple stakeholders – especially during a pandemic. Where do you start?
Nurture, #RVAbreastfeeds, CINCH, and #757Breastfeeds are pleased to provide this series of Collective Impact Webinars for maternal health and breastfeeding stakeholders in Richmond and Hampton Roads, Virginia. Our goal is to provide foundational training across a diverse spectrum of organizations and individuals in order to build collaborative, local movements for maternal and infant health.
Since 2011, communities have been embracing Collective Impact as a framework for driving forward toward solutions. From food security, to poverty and advancing early childhood outcomes, the Collective Impact framework has been employed to improve outcomes for children and their families.
The Collective Impact capacity building webinar series is designed to provide participants with an overview of the Collective Impact framework and practical examples of how collaboratives are deploying the framework. In addition, participants will learn about useful tools to move their collaboratives from idea to impact.

Join your community colleagues by registering for this webinar series and you will get:
Useful perspectives and examples about how communities are engaging with the Collective Impact Framework



Practical tools you can use to advance your collaborative work



A network of partners you can connect with to support your collaboration
Watch the entire series, individual webinar recordings, and their Powerpoint slides are below.
---

Webinar 1: March 31, 2021, 4:00 - 5:00 pm EST
Webinar Title: Building Community Capacity for Collective Impact
This webinar will introduce participants to the Collective Impact framework. The framework, which includes three pre-conditions and five conditions, is being used by communities to advance progress on complex issues. Participants will learn about the difference between collaboration and collective impact. The Collective Impact principles of practice are essential and put equity at the centre of this work. As well, participants will be introduced to examples of collective impact in action in communities across the United States and Canada.
---

Webinar 2: April 14, 2021, 4:00 - 5:00 pm EST
Webinar title: Collective Impact - The First Year
This webinar will focus on supporting the implementation of Collective Impact during the first year. This webinar will help participants make the case for a collective impact approach, identify the key elements to build the collaborative table, engage your board of directors and community partners, and work toward developing a common agenda and theory of change.
---

Webinar 3: April 28, 2021, 4:00 - 5:00 pm EST
Webinar Title: From Idea to Impact: Using Data to Drive Change
Data and shared measurement are essential to driving change and a key condition of Collective Impact. This webinar will describe how data should be used to define the impact of the challenge on the community and different demographic groups. Understanding demographic data and how it impacts community members leads collective impact efforts toward shared measurement and learning. Participants will be introduced to practical tools for tracking change as the Collective Impact effort evolves.
---

Webinar 4: May 12, 2021, 4:00 - 5:00 pm EST
Webinar Title: Building and Sustaining your Collective Impact Collaborative
The final webinar in this series will identify how to build and sustain Collective Impact collaborative efforts. Participants will be introduced to a practical tool which looks at eight elements of sustainable community change efforts. Building sustainability into Collective Impact from the early days ensures a longer-term impact and is essential to achieving population-level change.
---

Pre-Webinar Resources for the Collective Impact Capacity Building Series:
This program is made possible in part by funding from the Virginia Foundation for Healthy Youth.

Series Sponsors:

Webinar Series Facilitator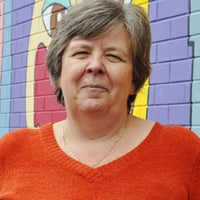 Liz Weaver
Liz is the Co-CEO of Tamarack Institute where she is leading the Tamarack Learning Centre. The Tamarack Learning Centre has a focus on advancing community change efforts and does this by focusing on five strategic areas including collective impact, collaborative leadership, community engagement, community innovation and evaluating community impact. Liz is well-known for her thought leadership on collective impact and is the author of several popular and academic papers on the topic. She is a co-catalyst partner with the Collective Impact Forum and leads a collective impact capacity building strategy with the Ontario Trillium Foundation.
Liz is passionate about the power and potential of communities getting to impact on complex issues. Prior to her current role at Tamarack, Liz led the Vibrant Communities Canada team and assisted place-based collaborative tables develop their frameworks of change and supported and guided their projects from idea to impact.