A New Vision for Income Security
Date: Thursday, November 30, 2017 | 12:00 - 1:00 p.m. EST
Speaker: Laura Cattari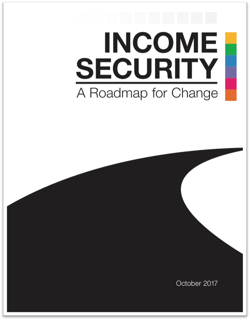 In June 2016, the Ontario Government's Ministry of Community and Social Services announced the development of three working groups that would envision a 10-year plan to transform Income Security. On November 2, 2017 this vision was released. Income Security: A Roadmap for Change, positions and sequences bold actions to shift approaches, programs, and services.
The plan goes beyond Social Assistance to meet new labour market realities, increasing levels of disability in the province, as well as supporting reconciliation with Indigenous peoples. In addition, the plan seeks to engage those who are attached to the system in a more dignified and supportive way, that will help all Ontarians realize their potential.
This webinar will discuss the guiding principles, concepts, and objectives that allowed for this fundamental shift in strategy - from ideology to practical application.
Speakers
Laura Cattari, Hamilton Roundtable for Poverty Reduction
Laura Cattari is a member of the Ontario Ministry of Community and Social Services' Income Security Reform working group. Laura works for the Hamilton Roundtable for Poverty Reduction, is an active Cities Reducing Poverty member, and a Campaign Coordinator for Fix the Gap, a campaign that is working to realize what an adequate standard of living costs in Ontario. Laura is also the Board President for Canada Without Poverty.