From Coaching to the Practice of Collaborative and Inclusive Leadership:
The Leadership rassembleurMC Program


Date: June 7, 2023 | 1:00‒2:00 p.m. ET
Speakers: Sophie Petré, Afifa Karama, Barbara Eyer, Guerda Amazan and Layla Belmahi

This event is taking place in French with simultaneous interpretation in English, thanks to our partnership with the Secrétariat du Québec aux relations canadiennes. Click here to access the landing page for the French version.
Description
What would collaborative and inclusive leadership look like? What is the added value of providing spaces where leaders from different horizons facing the same challenges can come together? How can we transform our practices to move towards collaborative models that focus on equity?
In this webinar, we invite you to rethink the notion of leadership alongside Sophie Pétré, Afifa Karama and Barbara Eyer. We will draw together the rich learnings from the Leadership rassembleurMC training program from Montreal-based organization Dynamo that has been successfully offered for over 15 years. We will also hear from local leaders to better understand what collaborative and inclusive leadership may mean today and its transformative potential for communities.
Together, we will examine how leaders are coached through the perspective of Sophie Pétré, Director of Talent Development at Dynamo. We will also learn more about the concrete application of the program in the lives of two laureates. Afifa Karama, Executive Director of Services éducatifs Petite-Côte, and Barbara Eyer, Development Officer at Bâtir son quartier, and Guerda Amazan, Assistant Executive Director at Maison d'Haïti will share their experiences.
This webinar is part of a series on Quebec experiences in Tamarack's five practice areas: Collaboration, Community Engagement, Collective Leadership, Community Innovation and Evaluating Impact.
Speakers

Sophie Petré, Director of Talent Development, Dynamo
With a French diploma in special education (DEES), Sophie Pétré began her career as a social worker with individuals and groups of marginalized people.
Trained in the Leadership rassembleurMC program in 2012–2013, she was introduced to the Art of Hosting/L'Art d'agir ensemble that same year and to a following appreciative approach training in 2014. Specialized in systemic interventions and group dynamics, Sophie explores the collaborative work of community round tables and the power of collectives as the citizen mobilization and organizational development consultant in charge of consultations at the CDC Centre-Sud.
Convinced that proper societal development requires both community and individual growth, Sophie cumulates related experience first as a clinical supervisor and then as a strategic consultant at Dynamo, while completing certification as a professional Associate Certified Coach. She is a member of the International Coach Federation/ICFQ and is committed to ever deepening her practice through different lenses.
Creative and passionate, Sophie likes to support people in the deployment of their full potential. This is how she envisions her contribution to the development of talents at Dynamo and the deepening of their professional practice.
Within the Dynamo team, Sophie currently holds the title of Director of Talent Development.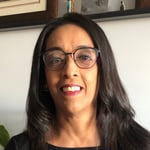 Afifa Karama, Executive Director, Services éducatifs Petite-Côte

A native of Morocco with a bachelor's degree in business administration and a diploma in banking techniques, Afifa immigrated to Montréal with her family in 2020.
Inspired by her interests and penchant for research, she then obtained a certificate in journalism. She gradually returned to work in 2008 after a maternity leave, and endeavoured to support school perseverance, by helping elementary school children follow through with their schoolwork in the Côte-des-Neiges and Rosemont districts.
This triggered a new journey for her and many discoveries. From project manager to sector coordinator and then assistant director of the Petite-Côte Community Centre (CCPC), Afifa actively participated in the incorporation of the CCPC service that offered educational community projects to Rosemont elementary students, a service which saw its funding cut in 2019.
With the support of her community and the learnings from her Dynamo Leadership 2020 training, she reflected on what to accomplish to finally settle on taking over the reins and general direction of the CCPC educational services.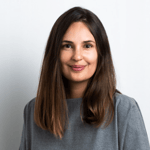 Barbara Eyer, Development Officer, Bâtir son quartier
Barbara Eyer holds a master's degree in urban planning from the Université de Montréal, is a member of the Ordre des Urbanistes du Québec and works at Bâtir son quartier. As part of her responsibilities, she accompanies low- and middle-income groups and citizens in the development of projects adapted to their needs. She deems essential that this accompaniment, often carried out in a context of cultural diversity, be conducted in a spirit of consultation and collaboration.
She acquired this conviction while working within the housing and development component of the Collective Impact Project of the Saint-Michel district. In this context, she participated in mobilization and awareness-raising initiatives with citizens experiencing vulnerable situations. A lawyer by training, she has also contributed as a legal advisor in the management of cultural and socio-educational projects in Brazil in coordination with various partners from the public and private sectors. Barbara is also a member of the Montreal Intercultural Council and of the Cohorte 2023 du Réseau jeunes femmes leaders (RJFL).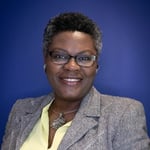 Guerda Amazan, Assistant Executive Director, La Maison d'Haïti
As an Executive Manager, Guerda Amazan has involved herself in several mandates championing the implementation, development and coordination of programs and projects to improve the practical needs and strategic interests of women.
She has participated in several international conferences and has organized and facilitated workshops on women's issues and experiences. She is trained in a convening leadership style. This enables her to work on social change and respond to diverse needs in the community. She is currently Assistant Executive Director of Maison d'Haïti, a Montréal community organization.
She is also an accomplished volunteer in the Montréal community: President of the Board of Directors of the Association québécoise de défense des droits des personnes retraitées et préretraitées (AQDR-Saint-Michel), Member of the Board of Directors of Un toit pour elles, Member of the Board of Directors of Vivre Saint-michel en Santé (VSMS) and a few others. Passionate about entrepreneurship, she also supervises the team of a small event company called Pique dans les parcs, which espouses environmental protections at the heart of their business value proposition, as she also continues to pursue her expertise in the real estate sector.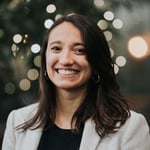 Layla Belmahi, Manager of Cities for Québec and Communities Building Youth Futures, Tamarack Institute
Layla Belmahi is passionate about supporting and networking individuals and groups to achieve greater social justice.
Layla discovered the power of collective impact in Morocco, when she co-founded the Woman Choufouch Movement to fight violence against women.
In Montréal, she completed university studies first at Concordia University in Communication and Cultural Studies (BA), then at the Université du Québec à Montréal in International and Intercultural Communication (MA). Her master's thesis focused on the perception of identity of Black Montrealers, within a postcolonial historical perspective.
During and after her studies, Layla worked in communications and project coordination for key players on the Montréal social development scene, and on research projects dealing with immigration, gender and youth challenges. She contributed to the start-up of the Maison de l'innovation sociale, and worked for the Coalition montréalaise des Tables de quartier, a regional network of 32 round tables working to improve the living conditions of local populations.
As part of her social commitments, Layla is also President of the Montreal Intercultural Council, an advisory body whose mandate is to advise the City of Montreal on the realities of immigrants and racialized people and intercultural relations.
---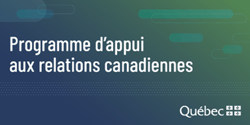 We would like to thank the Secrétariat du Québec aux relations canadiennes for its partnership in this event.