Democracy, City Building and Community Leagues – A Deep Dive into the 100-year History of the Edmonton Federation of Community Leagues

Date: February 22, 2023 | 1:00 p.m.–2:00 p.m. ET

Speakers: Laura Cunningham-Shpele, Jon Morgan and Rak Prasad

Description
In 2021, the Edmonton Federation of Community Leagues (EFCL) celebrated a century of residents across Edmonton coming together democratically to build their neighbourhoods through Community Leagues.

What's a League? There are currently 162 Community Leagues in Edmonton. By law, a Community League is a volunteer, not-for-profit organization that's registered under the Societies Act in Alberta. This requires Leagues to have an elected board, committee chairpersons, and various legislated responsibilities. But in practice, Leagues are a unique democratic force within Canada. Along with some "magic ingredients," this system in Edmonton has over its 100 years spurred on more than $500M worth of neighbourhood-led infrastructure including community centres, ice rinks, parks and more.

Join us on February 22, 2023, as The Deepening Community team welcomes the Edmonton Federation of Community Leagues for a conversation on the importance of local leadership to create vibrant neighbourhoods – with the capacity to identify and address issues that matter most to them. This conversation will include an overview of the Community League process, stories of success and the "magic ingredients" to create the space for any resident to become a leader.


Further Your Learning:
Speakers
Laura Cunningham-Shpele, Executive Director, Edmonton Federation of Community Leagues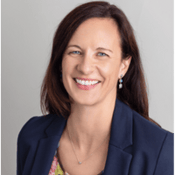 Laura Cunningham-Shpeley is the Executive Director of the Edmonton Federation of Community Leagues (EFCL). For the past 4 years she has worked with a dedicated staff to support 162 Community Leagues across the city and every day she is inspired by the work that Leagues do to connect with their neighbours. Previous to her role as Executive Director, Laura was the president of her own Community League with an incredible group of neighbours who made their goal to bring opportunities for greater connection in the community. Laura is a registered social worker, has worked at Health Canada with Indigenous Services Canada and ran her own licensed day home when her own kids were young. She is a huge supporter of community work, loves to watch comedy shows with her kids and takes her Covid pup for long walks in Edmonton's river valley.
Jon Morgan, Board Member, Edmonton Federation of Community Leagues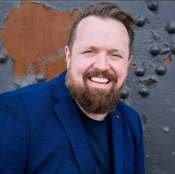 Whitemud East District (K) representative is Jon Morgan. Current President of Heritage Point Community League, Recording Secretary for his sons' school School Council, community soccer coach, and former President of Montrose Community League Jon Morgan is excited to join the EFCL Board as the District 'K' Representative. When not buried in board meetings and volunteering Jon enjoys spending time with his wife and kids watching movies and trying to keep up with them in the virtual worlds of Fortnite and Minecraft. Jon is strongly dedicated to inclusivity, social justice, community, and plans to forever strive towards being a better ally.
Rak Prasad, President, Newton Community League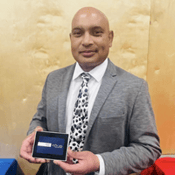 Rak Prasad is the president of the Newton Community League in Edmonton and a tireless community builder and volunteer.