Democracy - Government Doing With NOT For
Date: April 7, 2021 | 2:30 - 3:30 p.m. ET

Speakers: David Mathews and John McKnight
As a nation, we are working together to flatten the curve of the current pandemic but we find ourselves at a unique crossroads. We have all been working to find solutions to a problem whose scope is beyond anything we have ever encountered. The effects are moving quickly, affecting our jobs, families, communities, and faith in our democracy.
So how do we ensure citizens are involved in developing the solutions that impact them and their communities? We are so excited that David Mathews from the Kettering Foundation, will be joining us for a discussion on how governing institutions can shift from doing "for" the people to doing "with" the people.
In his recent book, With the People - An Introduction to an Idea, David highlights what can be accomplished when people work hand-in-hand with the institutions created to serve them. We need governing institutions working effectively to deal with crises like this pandemic but we cannot have that without their work being reinforced by the work citizens do.
Can't make the live event? Register below and we'll send you a full recording of the webinar.
Speakers
David Mathews, President & CEO, Kettering Foundation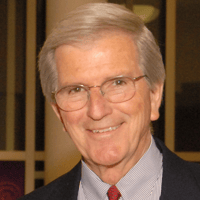 David Mathews is president and CEO of the Kettering Foundation and directs the studies of the foundation's Cousins Research Group. Prior to his work with the foundation, he served as Secretary of Health, Education, and Welfare in the Ford administration. From 1965 to 1980, he taught history at the University of Alabama, where he also served as president from 1969 to 1980. Mathews has written extensively on Southern history, public policy, community problem solving, education, and international relations. His books include Politics for People: Finding a Responsible Public Voice and The Ecology of Democracy: Finding Ways to Have a Stronger Hand in Shaping Our Future.
He has served on the boards of a variety of organizations, including the Gerald R. Ford Foundation; National Issues Forums Institute; Center for Citizenship, Community, and Democracy; Southern Institute on Children and Families; PACERS; and Public Agenda. In 2007, the Alabama Center for Civic Life was renamed in his honor. He is also the recipient of 17 honorary degrees. Mathews earned an AB degree in history and classical Greek. After graduating Phi Beta Kappa from the University of Alabama, he received his PhD in history from Columbia University. A serious gardener and amateur landscaper, he is married to Mary Chapman Mathews; they have two daughters and six grandchildren.
John McKnight, Asset-Based Community Development Institute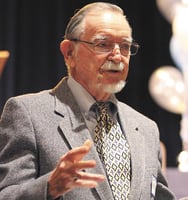 John McKnight is a founder and co-director of Asset-Based Community Development Institute, whose graduates -- including both Michelle and Barack Obama -- continue to have impact strengthening communities and neighbourhoods around the world. In 2013, John was awarded an Honourary Doctorate from the University of Waterloo in recognition of his innovative work.
For three decades John has researched social service delivery systems, health policy, community organizations and neighbourhood policy. He is the author of The Careless Society and co-author of Building Communities from the Inside Out and The Abundant Community. John serves on the Boards of several national organizations that support neighbourhood development and he remains tireless in his recognition and championing of citizens -- and their capacity to care for one another -- as an essential resource in the work of building better communities and neighbourhoods.