More Details About the agenda
Film Screening | Great Bear Rainforest
On Wednesday evening, we will travel to the Omnimax Theatre at Science world for a private screening of Great Bear Rainforest. The film will be followed by a reception at Science World, and learners can then continue into the city for dinner or return by bus to the hotel.
On the remote Pacific shores of Canada lies earth's largest coastal temperate rainforest, an almost fairy-tale-like chain of granite domes and thickly forested islands, spiked with ancient red cedar trees, carved through by crystal-clear, salmon-rich rivers and bursting with one-of-a-kind natural phenomena.
This primeval land hosts not only some of the world's most enchanting animals, but also a rare white bear that is neither polar bear nor albino but a "spirit bear," a black bear with a vanilla coat so mystically beautiful it is revered by the First Nations people who have lived among the bears and protected them for millennia.
Narrated by Ryan Reynolds, and featuring music by Hans Zimmer, this film showcases the revered ecosystem of the Great Bear Rainforest, and the indigenous youth that are coming together to protect it.
Want to deepen your practice as a community changemaker? Led by our expert facilitators, our Skills Sessions are workshops that will provide you with the theory, tools, and practices to help you enhance your Five Interconnected Practices for community change. Skills Sessions will be running on the first three days of the festival – come ready to build your toolbox!
Learn more about our skills sessions below.


Skills Session 1 | Monday | Building Your Planning Canvas


Choose one of the following sessions:


Collaborative Leadership
Transformative community change requires skilled changemakers. It's not just about one leadership pathway but rather engaging with multiple ways of understanding leadership and determining how to adapt your leadership style and skills to the current context. It's also about engaging other leaders in your network and inviting them to step forward. This action builds a shared ownership approach to community change.
Session goals:
Understand the multiple faces of leadership

Assess your collaborative leadership strengths

Develop a path for leveraging your collaborative leadership strengths
Learn about the adaptive leadership approach and how to leverage change
Community Engagement
Why engage? It's a simple question, but one that most people don't spend enough time exploring. Too often we engage 'because we're supposed to' rather than 'because we absolutely need to'. In this skills session we will challenge the status quo and push our thinking beyond our comfort zone.
Session goals:
Asses

s your comfort as a changemaker in deeply engaging

communities

Learn the 7 foundations for authentic engagement

Critically evaluate why you're engaging and challenge yourself

to go deeper

Flip your perspective to u

nderstand

your

work from the community member's point of view

Use the Community Engagement Planning Canvas

to

hold you accountable




Collective Impact
Since 2011, Collective Impact has grown into a world-wide field of practice. Skilled changemakers need to know what situations ARE and ARE NOT well-suited to Collective Impact. Equally important is the ability to assess whether there is adequate readiness to launch a Collective Impact initiative and how it can be cultivated. In this skills session we will discern the right situations and critical success factors needed to launch, and sustain, a successful Collective Impact effort.
Session goals:
Determine whether Collective Impact is the right approach for what you are hoping to achieve

Assess and cultivate the readiness for your CI initiative to thrive
Explore common "stumbles" that can limit the effectiveness of your CI Initiative

Discover factors common to successful Collective Impact Initiatives




Evaluating Impact | What makes evaluation meaningful to my social change work?
We often ask ourselves this question, but often don't have the time to answer it. This skills session will provide a space for you to better understand different ways of 'valuing' the evaluation experience by examining a variety of evaluation methodologies that can help you respond to your individual contexts of change.
Session Goals:
Explore evaluation themes – including but not limited to gender-responsive evaluation, indigenous evaluation, and complexity evaluation methodologies

Examine how drawing from these

methodologies can make your evaluation(s) more meaningful

Critically reflect on which methodologies are best suited to your needs, and the needs of the community

Use an Evaluation Planning Canvas

to

help transfer your learning back into your work, the work of your organization and/or community
Community Innovation | Three Big Ideas: Empathy, Ideation, Experimentation
Learn how design-based methods are shaping the work of community change, and how you can use these methods to build, test, and scale new approaches. This workshop will focus on hands-on, practical tools and approaches that you can use right away


Session Goals:

Understand the basic principles behind design-based methods for community innovation
Understand where, when, and why these methods are appropriate
Learn how to use these methods in practice
Have the opportunity to tailor these tools to your own needs through practice
Skills Session 2 | Tuesday | Innovative Stories & Case Studies


Choose one of the following sessions:
Collaborative Leadership
We are all on a collaborative leadership journey. Listen to the stories of community change practitioners who have struggled and have overcome challenges and continue to deepen their commitment to community change. Dr. Tom Klaus, Tenacious Change and Lindsay Daniller, Daniller Associates will share their stories of collaborative leadership – the good, the bad and the challenging.
Session goals:
Be inspired by seasoned leaders who have navigated collaborative leadership opportunities and challenges

Share your own reflections about collaborative leadership and leadership choices

Collaboratively build a framework for leadership for collaborative and community leadership
Community Engagement
What would it take for your engagement to be truly personal, accessible and centred around connection? Explore the role of humour, informal language and vulnerability through stories and exercises, and brainstorm the possibilities for your authentic engagement.
Session goals:
Inspire with examples of engaging communications that are out of the ordinary
Explore vulnerability and why we need

more of

it in our societ

y

Assess how approachable your current engagement activities are and plan what you'll do to reduce the barriers

Consider accessibility in all its form and brainstorm solutions

Engage in an exercise to embark on 'something crazy and wonderful'
Collective Impact
What does it take to create a Collective Impact initiative that acts as a catalyst and container for a grassroots movement for change? Discover how Collective Impact initiatives can create shared innovation spaces that generate change that no single sector or group could have achieved alone. Explore the opportunities and challenges of learning to work differently together.
Session goals:
Be inspired by stories that profile the highs and lows of Collective Impact in action

Discover the opportunities that CI creates to work differently; the challenges this can generate; and, what can be done to mitigate these risks

Learn how the work of CI evolves across 5 phases and determine what you'll need to focus on next

Share lessons and resources from your own work in Collective Impact work



Evaluating Impact | Holding a party down at the river: Creating a more participatory evaluation practice.


Evaluation practice can have a transformative effect on the participants involved, producing change simply by engaging people in a critical inquiry-based, reflective evaluation process. Drawing from Fetterman, Rodrı guez-Campos, Wandersman, and Goldfarb O'Sullivan's work, this session facilitates thinking around how to engage all stakeholders in an evaluative learning process using collaborative, participatory and empowering methods for data collection and reporting.
Session Goals:
Explore concepts within the evaluation context (e.g., inquiry-based, reflective/reflexive thinking, transformative learning)

Reflect on how you might use evaluation to transform the knowledge, skills, behaviours and attitudes of stakeholder participating in your evaluation process

Use the Evaluation Planning Canvas

to

help transfer your learning back into your work, the work of your organization and/or the community
Community Innovation
Who is making good use of innovation techniques in the community change world? What can we learn from their successes and failures? This session will focus on a few key case studies that will help us understand how to choose design methods and ideas that work for our specific contexts, and how to honour the agency and identities of our communities in the process.

Session Goals:

Identify how others are using innovation and design methods to move their community change agenda forward
Build a process for discerning which methods would be appropriate for our own communities
Learn from the success and failures of others in the field
Skills Session 3 | Wednesday

|

Methods to put Theory into Practice

Choose one of the following sessions:
Collaborative Leadership
Stepping into collaborative leadership is about building trust and relationships. This workshop session will provide participants with practical skills and tools to put their leadership into practice. This fast- paced session will explore trust, leadership and the contract we make with community when we chose to lead.
Session Goals:
Explore practical strategies for building trust and meaningful relationships

Develop a leadership contract which will build your path forward

Engage in the dark side of collaborative leadership – learn how to deal with turf issues and disappointment
Community Engagement
Deep dive into two methods for deep collaborative engagement where communities are involved in codesigning the solution. Explore the role of the community from being the recipient of programs and services to having ownership and investment in the things that matter most to them.
Session goals:
Understand the decision-making process for how to engage the community in codesign

Explore codesign methodologies through examples and tools

Learn how to link deep engagement processes together with consultative processes
Engage in an open discussion about what works and what doesn't
Collective Impact
Explore – and apply – useful tools and frameworks designed to engage diverse perspectives in thinking together that can be used to help translate the theory of Collective Impact into action. Discover the essential role that data, dialogue and shared learning play in building the necessary trust and mutual understanding needed for your Collective Impact effort to flourish.
Session goals:
Consider the importance of trust and discover tools and practices to nurture and sustain it

Discover the importance of embracing a systems lens and learn simple tools to foster this view

Learn about and share resources to continue to build your CI Implementation Toolkit



Evaluating Impact | Appropriating education evaluation theory to community change work


To what extent can continuous evaluation models help us track changes resulting from community initiatives? The purpose of this session is to better understand how designing and implementing evaluation processes and practice during the planning stages of community initiatives strengthens the overall evaluation. This can influence the quality of your work, the work of your organization and that of long-term community changes.
Session Goals:
Explore the theory behind a cycle of continuous evaluation approaches
Reflect and assess how drawing from the theory can make your practice more meaningful
Use the Evaluation Planning Canvas to help transfer your learning back into your work, the work of your organization and/or community
Community Innovation
What are your toughest challenges in inspiring, championing, and supporting new approaches? Bring your questions about how to effectively facilitate the process of Community Innovation so that we can work together to support your work and learn from our collective experiences.

Session Goals:

Identify potential pathways to scaling community innovation
Build a moment for change
Build a Community Innovation peer learning network
Tell me more about the Advanced Learning Stream
Our advanced learning stream is designed for experienced community changemakers who are working in systems change. These sessions will be facilitated by a rotating cast of experienced faculty. The workshops are designed to engage senior leaders in each of the five interconnected practices essential for moving the needle on complex systems.
The advanced learning series will be limited enrolment so sign up early to reserve your spot.
More information on the advanced learning stream will be released soon.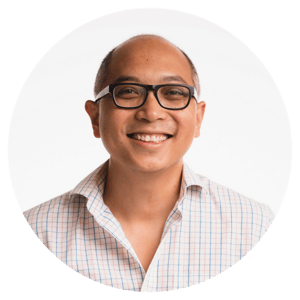 Tell me more about the Keynote by George Aye
The Future of Community Change: Overcoming Power and Privilege

As a community changemaker, have you ever stopped to wonder where the power lies in your project? What are you trying to achieve, and for whom? How does your place of power (as a creator and an individual) hinder your ability to relate to those you are trying to help? We often use power unknowingly in the work of change. But, when we recognize the influence of our training, politics, access, and privilege we allow ourselves to understand our clients, communities, and abilities more deeply. During this intimate conversation, George Aye of Greater Good Studio will help us understand the mechanics of power and how to wield it with care as we move forward in our community change efforts.