Costs & Logistics
Learn more about the workshop costs, payment information, accommodations and frequently asked questions.
Workshop Costs
Tamarack has secured sponsors to help us offer this learning event at a reduced cost. Tamarack is a charitable organization and, as such, we do this work within our means. This Gathering, and the development of the learning community, represents our hope that this will be a mutual experience shared by both the learner and the sponsors. In this spirit of mutuality, the cost for participation is, therefore, also shared.

Attendees of previous Gatherings have confirmed our own experience, that the learning from these events is better translated into action when a group of learners from the same collaborative attends together. Therefore our costing provides subsidies to encourage colleagues to enrol together.

The registration rates (in Canadian dollars) are as follows:

• $555 per person for three or more colleagues from the same collaborative attending together
• $625 per person for two people from the same collaborative attending together
• $695 for single registration

Your fee includes: three days of onsite learning, all lunches, gourmet breaks, and experiential learning tours.
Payment Options
Payments can be made in the following three ways:
1. PayPal - to pay using your credit card via PayPal, simply register, select "Pay Online" as your payment method and follow the prompts to submit your payment online using PayPal. You will still receive an invoice for your records.
2. Credit Card - to pay using your Master Card or Visa over the phone, please register and select to be invoiced for your registration. Then, email Jana to set up a credit card payment appointment.
3. Cheque - to pay by cheque, please choose to be invoiced for your registration. Email Jana at Jana to let her know that you will be sending a cheque in the mail. Please include your invoice number on your cheque, make it payable to Tamarack and mail it to:
Tamarack Institute
Conrad Grebel University College
140 Westmount Road North
Waterloo, Ontario, N2L 3G6
Group registration
We are pleased to be able to offer subsidies to colleagues who enrol together.
To register a group, please have one member of your group complete the registration form. On this form there is space to select the number of people attending and add the names of all attendees.
If you have special group registration needs, please reach out to Glenda.
Cancellation Policy
We know that you don't want to miss out on this exciting learning event, but understand that sometimes unanticipated changes can affect your plans. This is why we have a cancellation policy that allows us to refund your registration fee up to 4 weeks in advance of your workshop date (less a $150 administration charge which we need to put towards our overhead costs.) Starting 3 weeks prior to the workshop, we are sorry to say we can no longer offer registration refunds, but will gladly admit confirmed substitutions up to 1 week in advance of the workshop so that someone else can benefit from the training.
Be A Light Scholarships
Tamarack hosts a number of single and multi-day learning events annually. These learning events are designed to provide participants with theoretical knowledge and practical tools that community change leaders can utilize in their work. The Be A Light Scholarship initiative is designed to support individuals and/or groups to participate in a Tamarack Learning Event. The Tamarack Scholarship can only be applied to the registration portion of the Learning Event. Any additional costs incurred to attend the Tamarack Learning Event, including travel, hotel, and incidental costs must be covered by the individual and/or their sponsoring organization.
To apply for a scholarship, fill out the application form below. Deadline to apply is April 26, 2019.
Event Location
Chateau Lacombe
10111 Bellamy Hill Rd NW, Edmonton, AB T5J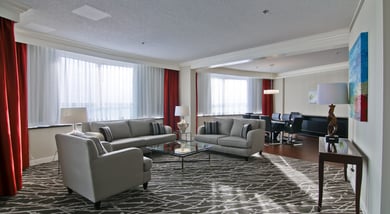 The workshop will be held in the iconic landmark hotel, Chateau Lacombe, located in the heart of downtown Edmonton. It offers spectacular panoramic views of the North Saskatchewan River valley.

The closest airport to Chateau Lacombe Hotel is the Edmonton International Airport (YEG) and is 35km from Edmonton's business district.

Each afternoon you will also be invited to hop onto a bus for an experiential learning excursion where we will combine tours and lectures from speakers who actually do the work of ABCD daily.
Accommodation Location
We have secured group block with a discounted booking rate at the Chateau Lacombe. The special event rate is $120.00 and $155.00 for a concierge king + tax per night. Reserve your room today by calling 1 (800) 661 8801 or (780) 428 6611 and tell them the group code ABCD Conference for ease of booking. The reduced rate is available until April 28, 2019, based on room availability
Frequent Asked Questions
Who will be there?
We will bring together a diversity of individuals from a variety of sectors, and we encourage participants to enrich this gathering with their own unique experiences, gifts, and the issues and ideas that matter to them the most. Participants represent: citizen leaders, community organizations, associations, businesses, funders, researchers and staff and elected officials from national, provincial/state, regional and local governments.
How can I prepare?
We will send you pre-reading materials before you arrive and we will update the site regularly with new resources and related learning opportunities prior to the event.
Who is taking care of my travel and accommodation?
Participants are required to book and pay for their own travel and accommodation in Edmonton. Here at Tamarack, we're working hard to make sure your experience at the gathering is an enjoyable one. If you have any questions, contact Glenda.