changemaker experience
Deepen your experience and knowledge as part of our 2024 Cohort
February - August 2024
Changemakers
Virtual Connection and Workshop Sessions
Coaching and Peer-Learning Calls
you are at the forefront of leading change in your communities
As a convener and catalyst, you are bringing together a wide range of partners and working collaboratively to achieve a positive impact. The Changemaker Experience includes a seven-part workshop series, coaching support, and access to the latest thinking, tools, and resources all designed to increase your skills and competencies in leading and driving change.

During the Changemaker Experience, you will:
Interact with colleagues from across Canada and the globe as a peer learning cohort

Learn new skills, tools, and frameworks which enhance your ability to lead change

Participate in reflective activities which deepen your knowledge and skills

Have access to peer and individual coaching sessions to accelerate change

Hear from leading practitioners in the field of community change

Share your experience, knowledge, and expertise

Broaden your network of colleagues across Canada and beyond
hear from a 2023 cohort participant
design of the changemaker experience: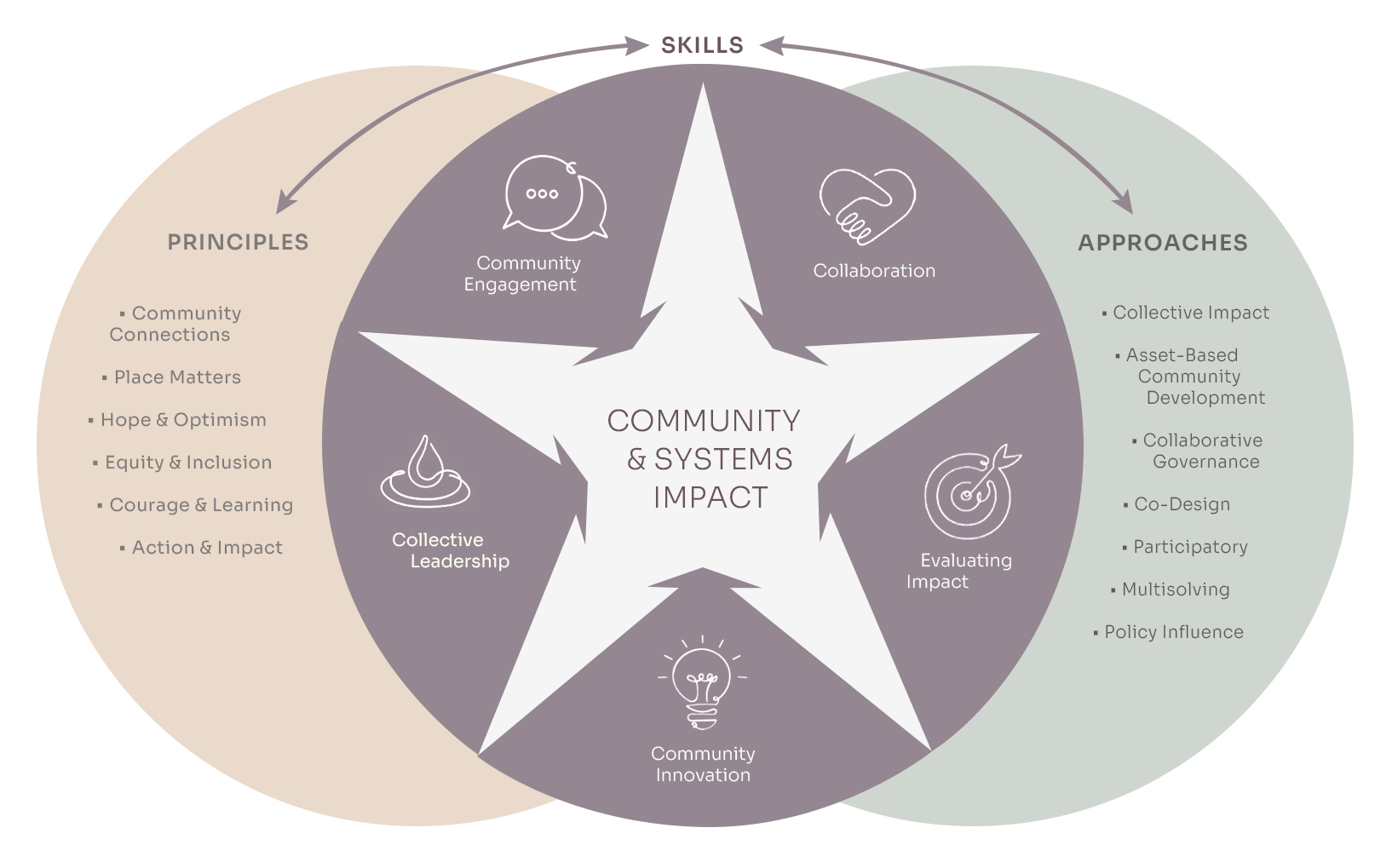 In 2022, Tamarack upgraded its approach to community and systems impact. The Changemaker Experience will explore all facets of the community and systems impact approach including exploring the core principles which drive place-based change forward, enhancing your change and impact skillsets, and deepening your understanding of the frameworks or ways of working to support you to translate your social change goals into reality.
Below you will find more details about the Changemaker Experience and how to participate in the initial peer cohort. We invite you to learn more and apply to join the Changemaker Experience. Contact Duncan Field if you have questions about the Changemaker Experience or application process.
The number of participants per cohort is limited to maximize the learning experience so, don't wait.
building skills to navigate change:
We are living in a time of significant change. The past three years have revealed deep divisions in our communities and systems. There is increasing discord, social isolation, and pressure on communities. Navigating complex community challenges such as food security, poverty, mental health and well-being, and youth, and citizen engagement requires collaborative mindsets and skill sets.
The Changemaker Experience is your opportunity to engage in enhancing the skills that are essential to build the consensus and commitment to accelerate community and systems-level impact. The Changemaker Experience will bring together a small cohort of changemakers who will learn together, experience tools, and resources, and develop new skills to bring back to your communities and collaboratives.
The deadline for application to the Changemaker Experiences is January 19, 2024, with the first cohort launching in February 2024.
learn more
The Changemaker Experience is intentionally designed as an intimate, small-group learning experience. The 2024 Changemaker Experience cohort will be limited to 50 participants. Participants will build connections and become a peer learning group to share successful practices and challenges in driving community and systems-level change.
As a member of the Changemaker Experience Cohort, you will have access to the latest thinking in community change from dynamic speakers and community change leaders and a global perspective about different frameworks and tools.
Changemaker Experience cohort members will commit to monthly virtual learning sessions and will be invited to share their perspectives to shape and grow the learning experience as it unfolds.
key agenda items
A virtual workshop series and two coaching sessions exploring the key elements of effective community change including collaboration, community engagement, leadership, innovation, and evaluating impact
Monthly cohort sessions with guest speakers on a range of relevant topics
Exploration of cutting-edge frameworks, tools, resources, and evidence-based solutions which drive change forward
Expert and peer coaching sessions designed to support your changemaking experience
A focus on applying theory to advance change in your collaborative or community
Access to Tamarack's publications, research, and guides for communities and local leaders
An opportunity for rapid prototyping, and peer feedback on program design, piloting, and launch
who should apply?
The Changemaker Experience is designed for individuals who have been leading change in their organizations or communities for three or more years. You are a committed leader who is seeking an advanced learning experience. You are willing to share your perspectives with your peer group. You are excited about making this investment in your own leadership and driving forward change in your community.
A stated commitment to and experience with community and system-level change
A stated commitment to engage in the collective impact and community engagement processes that define the Changemaker Experience
Ideally, a current community change initiative you are eager to develop, implement or enhance
A commitment to fully engage in the community and peer learning experience throughout the nine-month commitment

Session 1: Setting the Stage for Community Change and Impact
This 2-hour session will focus on the basics of community change. The following topics will be covered:
Share the current understanding of communities and community context

Define community readiness and catalytic communities

Review key tools – Cynefin framework, collaboration spectrum, and collaboration cycle

Apply tools in any changemaker context

Session 2: Creating a Culture of Community Engagement
This 2-hour session will focus on developing purposeful community engagement strategies. The following topics will be covered:
Highlight the IAP2 Community Engagement Spectrum and the Capire Engagement approach

Share virtual, hybrid, and other community engagement strategies to navigate a changing world

Review key community engagement tools

Apply the tools to the changemaker context



Session 3: Collaboration and Collective Impact
This 2-hour session will focus on effective community collaboration strategies including collective impact which is a strategy designed to advance systems change. The following topics will be covered:
Highlight the collaboration spectrum and the collective impact framework as collaboration approaches

Determine the types of collaborative efforts currently being supported by FLA and where there might be some collaboration challenges

Review collaboration and collective impact tools

Apply the tools to the changemaker context
Session 4: Collaborative Leadership and Governance
This 2-hour session will focus on the key elements of both collaborative leadership and collaborative governance. Participants will learn:
The essential mindsets and skillsets required for collaborative leadership

Develop ways to build trust and connection

Understand the unique elements and tools for collaborative governance

Apply the tools in the changemaker context
Session 5: Community Innovation
This 2-hour session will focus on social innovation approaches that can be applied to the community context. Participants will:
Review the innovation ambition continuum and what this means for collaborative work

Identify innovation tools and practices and how these might apply

Develop a co-design approach using the double-diamond framework

Apply the tools and learning to the changemaker context
Session 6: Evaluation & Strategic Learning
This 3-hour session will provide participants with a deeper understanding of how to evaluate community change efforts. Participants will:
Identify the challenges of evaluating longer-term change and community impact

Explore why we evaluate

Explore Approaches, Methods, Tools: find your way. 

Explore What is participatory evaluation and Is your community or organization ready for a participatory evaluation? 
Session 7: Applying the Learning to Changemaker Experience
The final 2-hour session in this series will be an opportunity for participants to consider all the content provided. The participants will be engaged in a peer input process to provide their colleagues with peer advice and support and share their perspectives and learning. The second hour will be spent in additional conversation and focus on key challenges.
tamarack is inviting individuals to submit a short application explaining their interest in participating in the 2024 changemaker experience.
The application process is open now and applications will be received until January 19, 2024. Successful cohort candidates will be notified of their confirmation to the program by January 26, 2024.

Sylvia Cheuy
Sylvia is a Consulting Director of the Tamarack Institute's Collective Impact Idea Area. She is passionate about community change and what becomes possible when residents and various sector leaders share an aspirational vision for their future. Sylvia believes that when the assets of residents and community are recognized and connected they become powerful drivers of community change.

Lisa Attygalle
Lisa is a Consulting Director of the Tamarack Institute's Community Engagement Idea Area. Over the last six years, her work has focused on creating authentic engagement strategies and training staff teams, teaching and writing about innovative engagement methodologies, designing and facilitating workshops with a focus on raising the voice of the context expert, integrated communications planning, and the use of technology and creativity for engagement.

Jean-Marie Chapeau
Jean-Marie s a Consulting Director of the Tamarack Institute's Evaluation Idea Area. He has been involved in community development and social change for 25 years. Jean-Marie mobilizes his experience, passion, and curiosity to promote evaluation as a tool for empowerment in communities and to accompany individuals and groups in their learning processes.

Myriam Bérubé
Myriam is the Consulting Director for Quebec at the Tamarack Institute. She's passionate about community innovation and development and brings her understanding of the diversity of experiences made in Quebec into Tamarack's five interconnected areas of practices leading to community change.

Sonja Miokovic
Sonja is the Consulting Director of the Tamarack Institutes's Community Innovation Area. She is a dynamic educator, social scientist, and innovator with over 16 years of experience in the sector. Having lived, worked, and played in over 80 countries, she has a broad spectrum of international experience that cuts across the public, private and civil society sectors.
logistics & pricing:
Registration will be limited to a maximum of 50 learners to ensure a dynamic learning experience. Successful applicants will be sent access to all cohort materials and Zoom meeting details in advance. For those of you who have to navigate different time zones, Tamarack will record the speaker and workshop sessions so that you and your team can learn virtually. The fee is inclusive of the 7-session series and coaching calls.
Single Registration

$1,499

Group Registration (3+)

$1,299
The Paul Born Be A Light Scholarship Fund
We want everyone to learn how to improve their community! To ensure this, Tamarack supports low-income learners through the Paul Born Be a Light Fund.
Please fill out this form if you would like to apply for a scholarship. You can also learn how you can donate to the Paul Born Be A Light Fund and get a charitable receipt. Reach out to Stephanie if you have any questions or concerns.