Lessons in Collaborating with the Enemy: Part Two
Date: October 17, 2017 | 12:00 - 1:30 p.m. EST
Guest: Adam Kahane, Director of Reos Partners
Host: Mark Cabaj, Here to There Consulting Inc.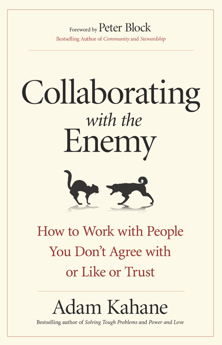 In June 2017 we hosted a webinar with Adam Kahane and Mark Cabaj where they discussed Adam's new book - Collaborating with the Enemy: How to Work with People You Don't Agree with or Like or Trust. The webinar discussed key differences between conventional collaboration and stretch collaboration and the fundamentals of what it truly means to tackle problems together.
But the crowd wanted more. With over 500 people on the call, many reached out asking us to go deeper with Adam on a follow up webinar. So we're doing just that.
Join us for Part Two of Collaborating with the Enemy. To enable us to go deeper, we invite you to read the book before the webinar (available from all booksellers in paperback, e-book, and audio formats) and to include the questions and challenges you are wrestling with in the registration form below. We will then organise the webinar around the questions submitted so that it is as relevant as possible for the work you are doing.
Speakers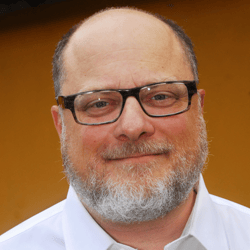 Adam Kahane
Adam Kahane is a Director of Reos Partners, an international social enterprise that helps people move forward together on their most important and intractable issues.
Adam is the author of Solving Tough Problems: An Open Way of Talking, Listening, and Creating New Realities, Power and Love: A Theory and Practice of Social Change, Transformative Scenario Planning: Working Together to Change the Future, and Collaborating with the Enemy: How to Work with People You Don't Agree With or Like or Trust.
During the early 1990s, Adam was head of Social, Political, Economic and Technological Scenarios for Royal Dutch Shell in London. He has held strategy and research positions with Pacific Gas and Electric Company (San Francisco), the Organisation for Economic Cooperation and Development (Paris), the International Institute for Applied Systems Analysis (Vienna), the Institute for Energy Economics (Tokyo), and the Universities of Oxford, Toronto, British Columbia, California, and the Western Cape.
Adam has a B.Sc. in Physics (First Class Honors) from McGill University, an M.A. in Energy and Resource Economics from the University of California, and an M.A. in Applied Behavioral Science from Bastyr University.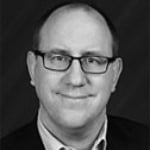 Mark Cabaj

Mark Cabaj is President of the consulting company From Here to There and an Associate of Tamarack Institute.
Mark's current focus is on developing practical ways to understand, plan and evaluate efforts to address complex issues (e.g. neighborhood renewal, poverty and homelessness, community safety, educational achievement and health). He has first-hand knowledge of using evaluation as a policy maker, philanthropist, and activist, and has played a big role in promoting the emerging practice of developmental evaluation in Canada.
Resources
Visit adamkahane.com for information on how to order his book as well as other downloads and resources.
Watch Part One of Collaborating with the Enemy.