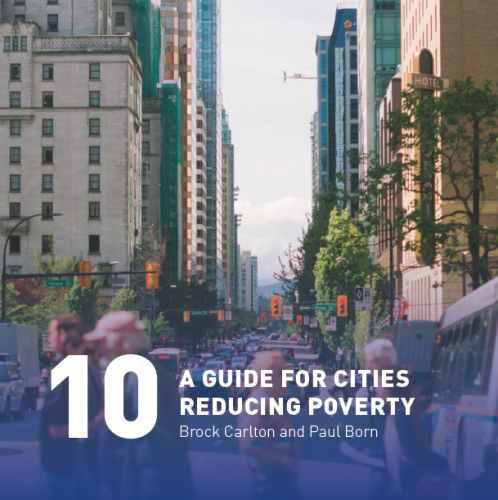 Inspired by the National Poverty Reduction Summit held in Ottawa in May of 2015, Paul Born, President of the Tamarack Institute, and Brock Carlton, CEO of the Federation of Canadian Municipalities, came together to develop a publication in order to explore the increasing interest, involvement of municipalities in poverty reduction work across Canada.
The result is 10 – A Guide for Cities Reducing Poverty which was released in April 2016 at the Cities Reducing Poverty: When Mayors Lead Summit in Edmonton. TEN brings you a concise, compelling overview of how cities are reducing poverty: their stories, their strategies, their impacts, their resources and advice for beginners on organizing a city-wide initiative. The guide features:
10 ideas to tackle poverty;
10 stories from cities that will inspire your local community's poverty reduction work;
10 resources that serve as key touchstones for advancing change in your community; and,
10 ideas on how to get started on poverty reduction work in local communities.
Download your free copy here to read about the exciting breadth of the work being carried out by Vibrant Communities Canada members across the country. If you would like to order hard copies to share with your neighbourhood association, local poverty reduction initiative, city councillors, or other community groups, please complete the order form below.
Pricing
The price of TEN has been set strictly on a cost recovery basis. Please note that all prices include the cost of shipping. Orders will be shipped only after payment has been received in full. If your shipping address is different from the organization address you enter below, please send Natasha Pei an email with the correct shipping information.

Regular Price: $10.00 per book (includes shipping)

VC Member Price: $7.50 per book (including shipping) and your first 5 copies are complimentary. You must enter a subsidy code to claim this offer. To request a code, contact Natasha Pei.