Measuring Up to Poverty Reduction in Rural B.C.
Date: Thursday, November 2, 2017 | 1:00 - 2:00 p.m. EDT
Speakers: Nadine Raynolds, Jan Morton, Jill Zacharias, Kerri Wall, and Anna Purcell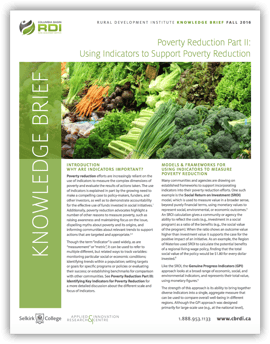 The Columbia Basin is the birthplace of the Columbia River in the southern interior of British Columbia; it is a mountainous and rural region with a population of nearly 167,000 people. Representatives from four of these communities - Greater Trail, Nelson, Cranbrook and Revelstoke - have joined together to comprise The Columbia Basin Poverty Reduction Working Group, convening community collaboratives at various stages of developing and implementing poverty reduction plans. The group shares learning, resources, and more recently, with the support of the Columbia Basin Rural Development Institute (RDI) have identified indicators to help measure poverty, with the intention of evaluating the impact of poverty reduction efforts over time.
This webinar will explore effective uses of poverty indicators and highlight the collaborative efforts of rural and remote communities acting on one of the most complex challenges, and opportunities, of our time.

Speakers
Nadine Raynolds, Columbia Basin Rural Development Institute
Nadine works with the Columbia Basin Rural Development Institute (RDI) at Selkirk College, researching social and cultural indicators of well-being and assisting communities within the Columbia Basin-Boundary region with data and indicators to support poverty reduction efforts. She has nearly 20 years of experience working with environmental and social change organizations, from small community groups to national non-profits.
Jan Morton, Greater Trail Community Skills Centre
Jan is the Executive Director of the Greater Trail Community Skills Centre and is facilitating a process to develop a poverty reduction plan with key stakeholders in the Lower Columbia Region. Jan will bring to the session more than 40 years' experience in adult education, employment services, organizational leadership, and community economic development.
.
Jill Zacharias, City of Revelstoke
Jill is the Social Development Coordinator for the City of Revelstoke, and has been facilitating work on poverty reduction since 2011, including the development and implementation of a community-based strategy. Jill has represented poverty reduction work in rural areas at workshops in Nelson, Ottawa (Cities Reducing Poverty National Summit, 2015), and Whistler (UBCM, Sept 2015), and is currently Co-Chair of Tamarack's BC-wide Poverty Reduction Community of Practice.
.

Kerri Wall, Interior Health
Kerri is a community health facilitator with Interior Health, working on healthy public policy with local governments throughout the Kootenay and Boundary regions of the province. Kerri is a listed member of both Family Mediation Canada and the International Association of Facilitators. She does freelance mediation, conflict coaching, parent education, and group facilitation on the side, and has been working closely with the Cranbrook Poverty Reduction Committee since its inception.
Anna Purcell, City of Nelson
A Purcell from Purcell's Cove, Nova Scotia, Anna made her way to Nelson, BC, in 2008, by way of Halifax, Toronto, Vancouver, Victoria and Gabriola Island. A resourceful Jill of Several Trades, she has supported herself as an artist, owned and operated her own book distribution business, developed ESL curriculum, and worked as volunteer coordinator for a busy community-run theatre. She is currently enjoying her first term on Nelson City Council where her portfolio spans the economic, social and cultural sectors. When she's not championing inclusion and equity, she can be found wandering Nelson's picturesque alleys with her sketch-pad, puttering in her garden, or baking pies.
.