COLLECTIVE IMPACT: LEADING THEORY TO ACTION
A Train-the-Trainer Workshop

Edmonton, AB | Nov 5-7
This 2.5-day workshop is designed to build your capacity to mobilize, launch and sustain Collective Impact Initiatives by providing you with theory, resources and opportunities to practice with – and learn from – your peers.
Collective Impact: Leading Theory to Action is specially designed for backbone staff and/or consultants and facilitators supporting Collective Impact efforts. Participants of this workshop will walk away with a solid foundation of Collective Impact and a CI Facilitation Toolkit to share back to their leadership tables and volunteer base to help take their Collective Impact initiative to the next level. As a bonus, participants will also have an opportunity to connect to a peer group of Collective Impact practitioners who are advancing the field and will be able to learn together at the workshop itself as well as after the workshop in a peer-led Community of Practice.
Bring your Collective Impact ideas, challenges, tools and resources. Over these two and a half days of deep learning, we will build our Collective Impact learning capacity and benefit from the wisdom of the field.
The Learning Arc
This session is designed as a comprehensive learning journey. Each activity builds on those that proceed it, helping you to build your Collective Impact knowledge and skill set. Participants at this workshop will build a network of colleagues and be inspired to take your Collective Impact efforts to the next level through a learning arc that begins before the workshop, is built upon during it, and continues after the workshop is over.
Want to learn more? Learn More about the Learning Arc Here.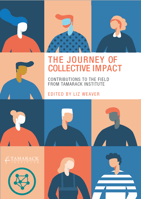 A Bonus Gift
As a bonus, all learners will be given a free copy of the Tamarack Institute's new Collective Impact book, edited by Liz Weaver. The Journey of Collective Impact: Contributions to the Field from Tamarack Institute provides practical approaches and resources to advance collective impact, and explores new thinking about its application. Community leaders and practitioners of collective impact will find ways to explore the core conditions of Collective Impact, including developing a common agenda, shared measurement, accessing mutually reinforcing activities, continuous communications and backbone infrastructure.