CHAMPIONS FOR CHANGE:
Leading a Backbone Organization for Collective Impact
April 19-21 | Halifax, Nova Scotia
Join together with the Tamarack Institute, the Collective Impact Forum, and Backbone organizations from across North America and internationally, to enhance your work in leading for Collective Impact. This year's trainings will feature renowned speakers, John Kania, Liz Weaver, Paul Born, Veronica Borgonovi, and Jennifer Splansky Juster along with experienced facilitators in collective impact. Learn more about the speakers here.
We will gather in the beautiful Maritime city, Halifax, Nova Scotia. Take in your learning as you breathe in the sea breezes off the harbour. Spend your nights strolling the historic waterfront, eating fresh fish at cosmopolitan eateries or enjoy the east coast art and live music over a couple of drinks at Alexander Keith's original 1820 brewery. We have also partnered with Destination Halifax to provide special VIP offers for participants of this workshop for a number of Halifax experiences. Learn more here.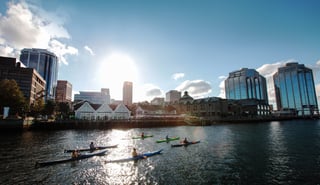 It's the perfect time of year for Americans to head North! Halifax is not only a sought after travel destination for Canadians from across the country, but with the current exchange rate, offers American's an unforgettable and affordable getaway as well. Check out US pricing - a savings of 25%!
---
About Champions For Change
Collective Impact results when actors from different sectors commit to a common agenda for solving a complex social issue. Backbone Organizations play a complex, behind-the-scenes role in the success of these collective impact initiatives. Spanning six major activities and requiring a diversity of skills, the Backbone Organization is essential in maintaining alignment across the partners and supporting the effectiveness with which they fulfill their role. This alignment often determines the success or failure of the Collective Impact Initiative as a whole.

Champions for Change: Leading a Backbone Organization for Collective Impact is a multi-day interactive workshop designed for staff playing the backbone role and steering committee members of collective impact initiatives, demonstrating or working to implement all five conditions of collective impact (common agenda, shared measurement, mutually reinforcing activities, continuous communication, and backbone support).
The Tamarack Institute and The Collective Impact Forum have partnered to develop this dynamic learning experience to offer leaders of Backbone Organizations an advanced learning opportunity designed exclusively to develop their capacity as collaborative leaders. Participants of this learning event will explore topics such as:
Clarifying the roles and leadership characteristics of the backbone organization

Engaging the community in your initiative

Fostering collaboration with funders, partners, and stakeholders

Developing and learning from shared measurement

Evaluating collective impact

Sustaining funding for collective impact over the long term

Understanding the essential mindset shifts required to accomplish collective impact